Stuffed Karela
Stuffed Karela aka Bharwa Karela is the most searched recipe on the internet and the most-cooked recipe in India. Karela is also called Bitter Gourd in English.
Karela acts as a home remedy to reduce diabetes and has many other health benefits. Bitter gourd helps maintain the sugar level, helps in weight loss, helps with the blood purification process, maintains the insulin level, and finally helps boost immunity.
It makes the perfect side dish for any meal. This is a North Indian recipe that is not just limited to chapati or roti but tastes good with rice too.
Every state in India has adopted this veggie and has its own cooking style, stuffed karela Gujarati style, stuffed karela Andhra Style, Stuffed Karela Punjabi style, stuffed karela Telangana style, and stuffed karela Maharashtrian style, and so on.
There are many ways you can cook this recipe like karela chips (just deep fried and tossed with red chili powder and salt), typical karela curry (made with onions), stuffed bitter gourd, whole karela fry, karela theplas, and so on.
Every mom and wife wish to feed this curry to their family members at least once a week but struggles a lot to convince them to eat.
One should innovate to cook Karela to develop the taste in the family and once it develops one will not want to miss eating this.
Say no more to the struggle, we are presenting this unique recipe that will balance the bitterness of karela with the right spices and makes it awesome for anyone to eat.
In the recipe, we will ground the seeds along with flavorful masalas and stuff them back into karela, and cook it. Even kids will fall in love with the unique karela recipe.
We prepared Stuffed Karela with our culinary experience and we hope you all will enjoy the taste of it. Please watch the video below for detailed step-by-step instructions.
I hope you liked reading this article. You may also like our other recipes on our blog.
Please Click Here to read more.
Subscribe to our YouTube Channel for more tempting recipes.
How to make Stuffed Karela with step-by-step photos:
1. Peel off the Karela skin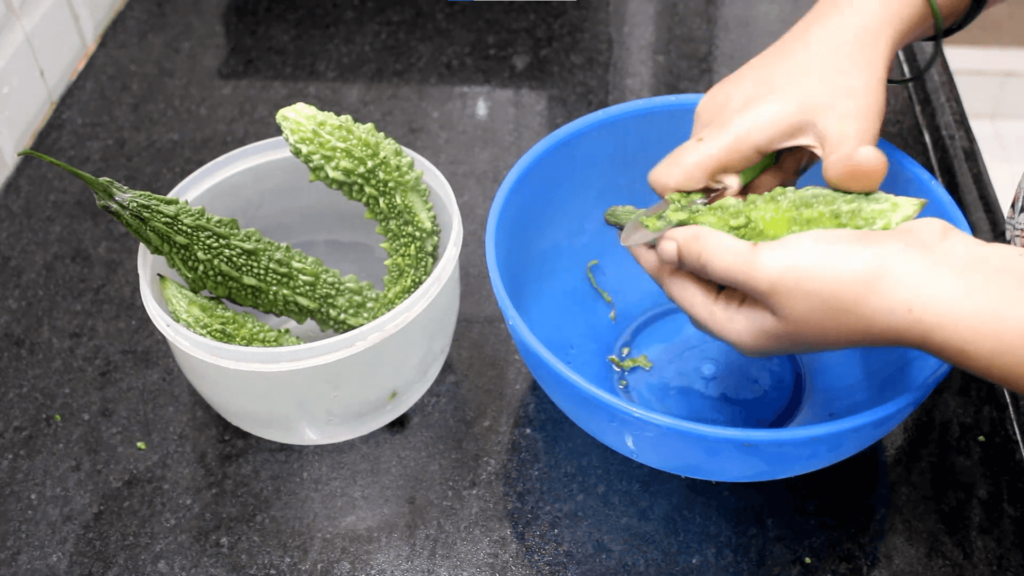 2. Cut them into small pieces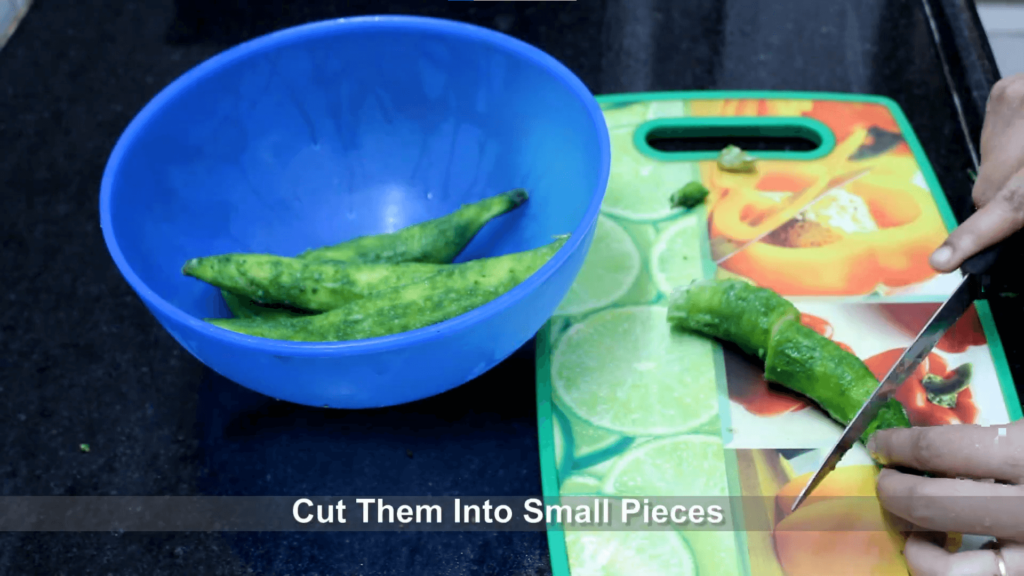 3. Cut from the side and remove the seeds and keep them aside
4. Add 1 tablespoon of salt
5. Add 1 tablespoon of turmeric
6. Add 2 cups of water and leave it to soak for 10 mins
7. Heat the pan and saute the spices cumin seeds, Fenugreek seeds, raw garam masala, sesame seeds, dry coconut, peanuts, shredded lentil, Urab bean, coriander seeds
8. Once sauteed, add it to the grinder and make a fine powder
9. Add 2 tablespoons of oil to the same pan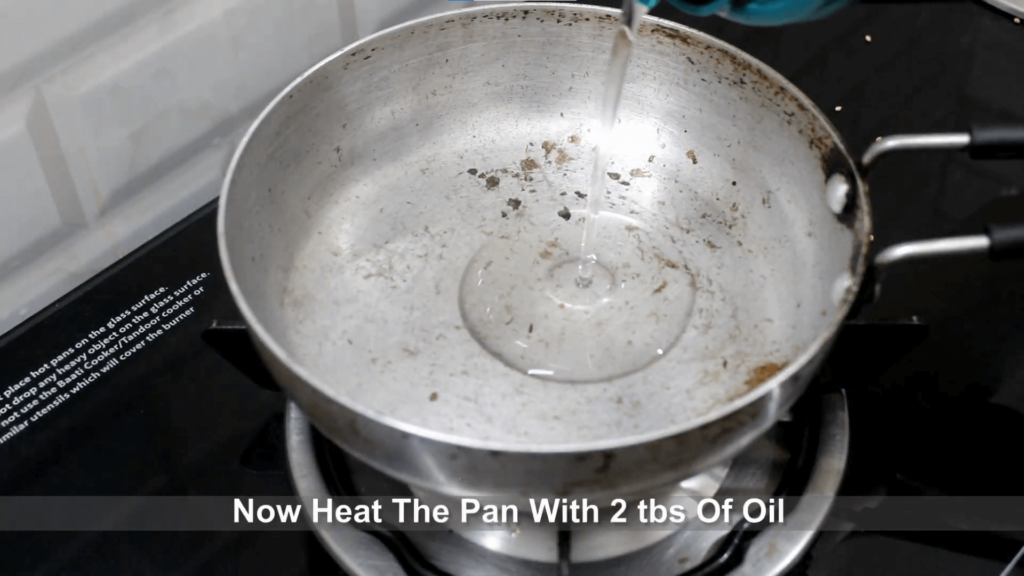 10. Add a cup of chopped onions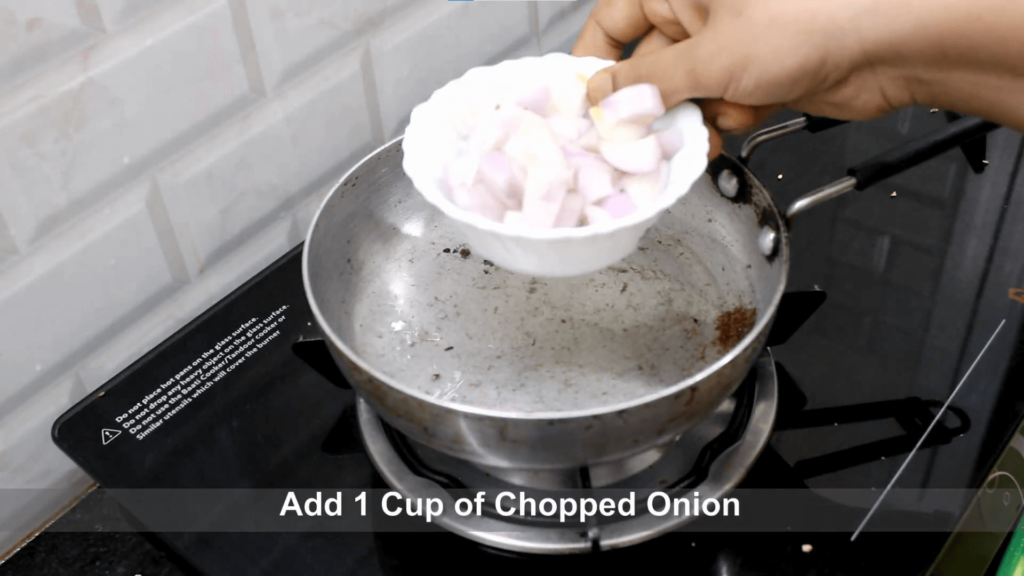 11. Add 1 tablespoon of salt to the onions
12. Add chopped tomatoes, green chilies, and karela seeds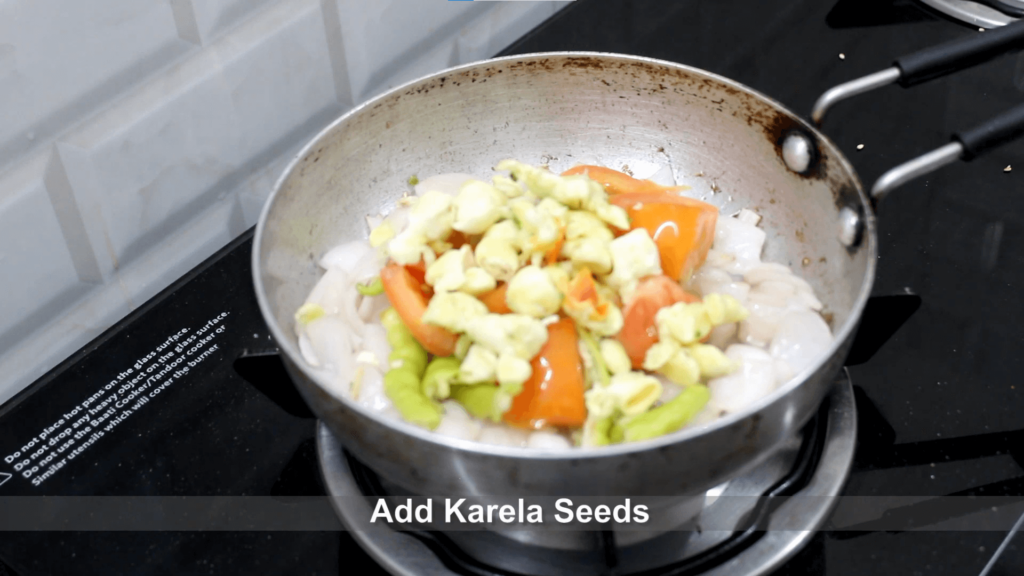 13. Cook on low flame for 5 mins and add it to grounded powder to make a fine paste and keep it aside
14. Squeeze and extract water from the soaked karelas
15. Stuff the masala into the karelas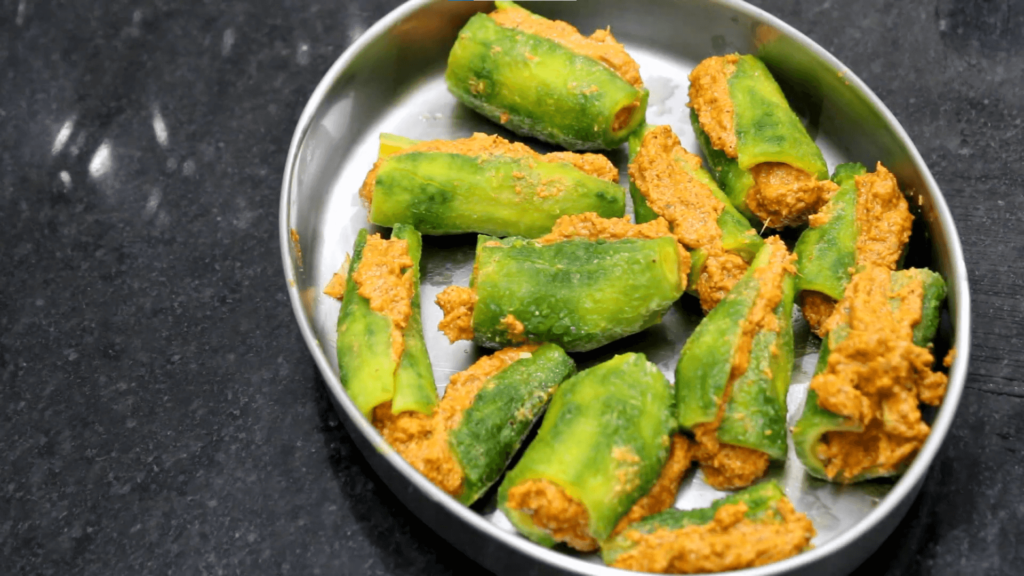 14. Add 2 tablespoons of oil to the new kadai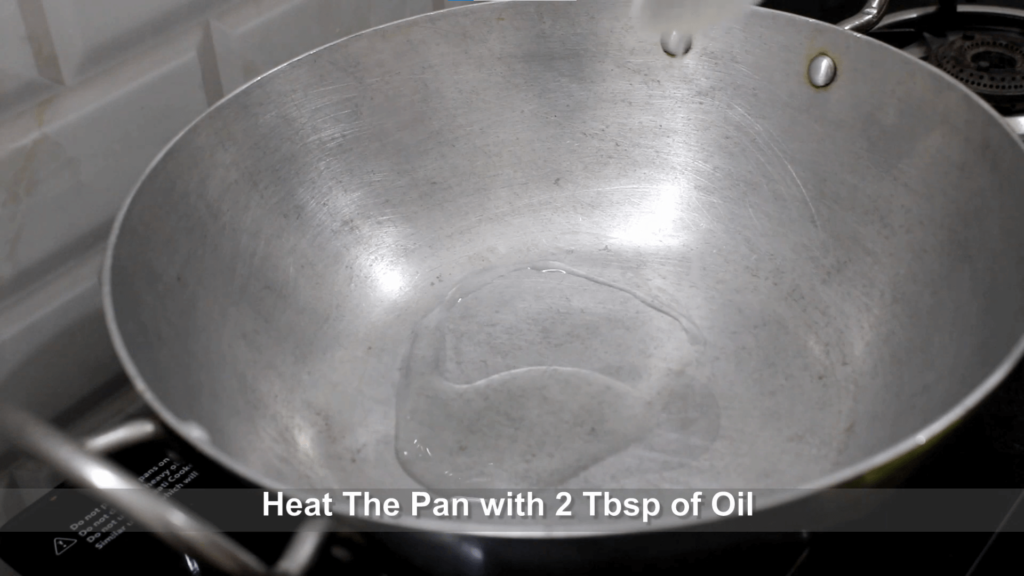 15. Add 1 tablespoon of Cumin Seeds
16. Add a few green chilies and a pinch of turmeric
17. Place the stuffed karelas 
18. Cover and cook for 5 mins on low flame
19. Add the leftover masala 
20. Add a cup of water and cook on low flame for 5 mins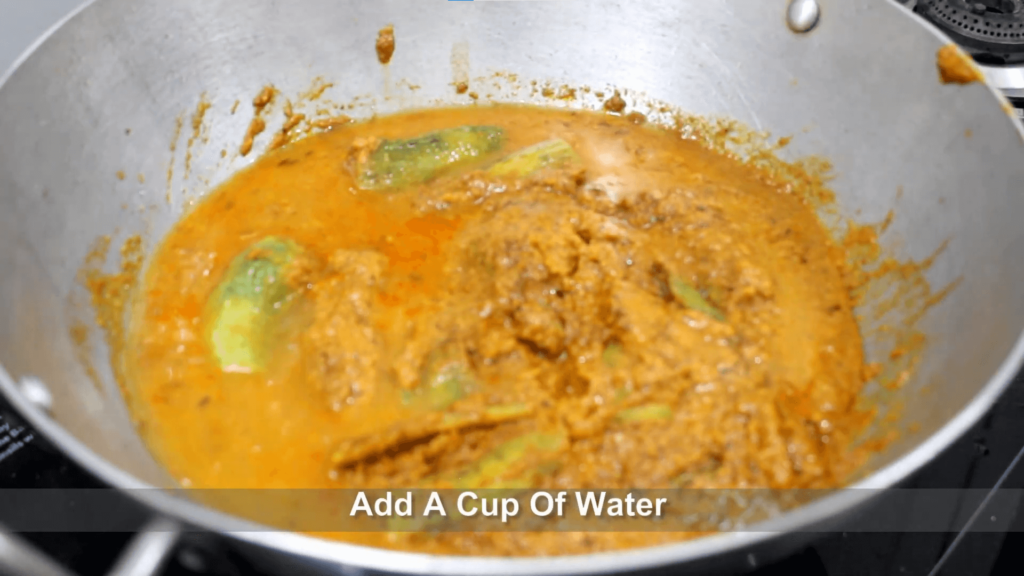 21. Cook on low flame until oil tops the curry
22. Stuffed Karela is ready and ready to serve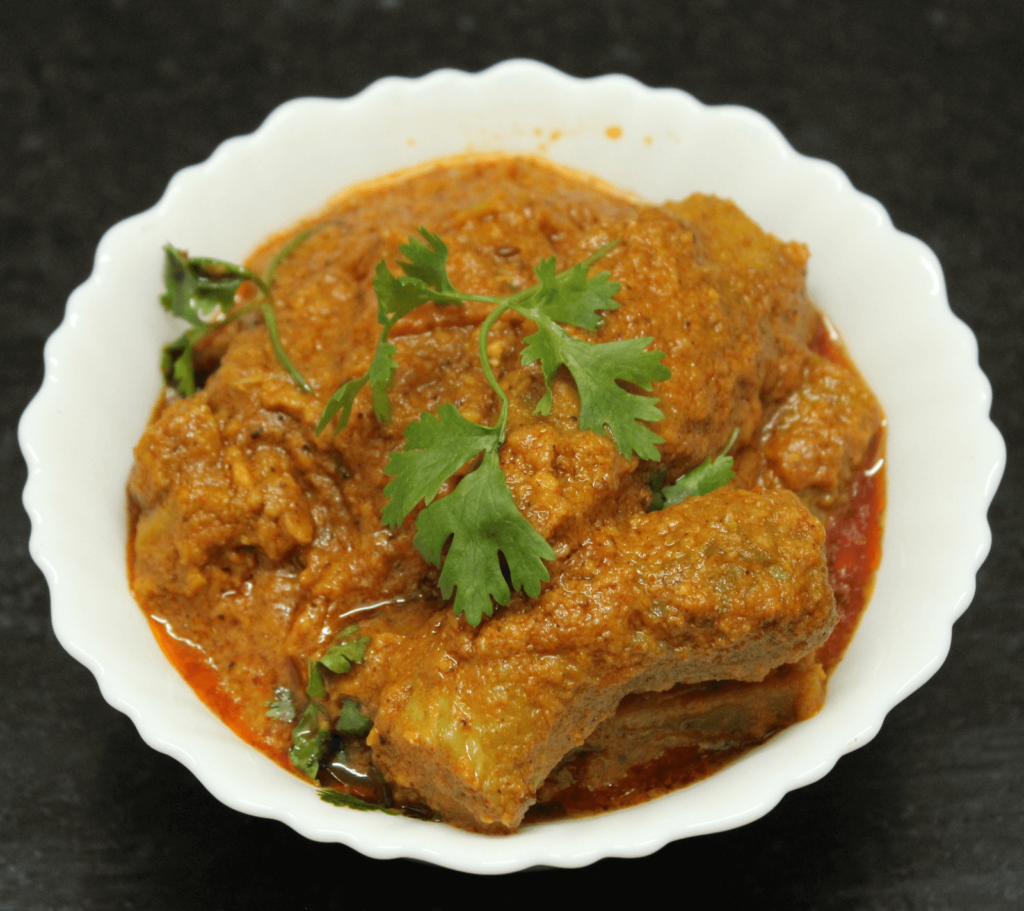 Stuffed Karela
Stuffed Karela
Kashmiri Shahi Dum Aloo
Raw Spices:
Urab Bean (Urad Dal)
Shredded Lentils (Chana Dal)
Peanuts
Coriander Seeds
Sesame Seeds
Fenugreek Seeds
Cumin Seeds
Dry Coconut
Raw Garam Masala
Video
Step by Step making process
Stuffed Karela