Easyway to Cook Gajar Ka Halwa at home in 10 mins
This recipe is called Gajar ka halwa in Hindi and Carrot Dessert / Indian Carrot Pudding in English; in southern states of India, it is called Gajar Halwa or Halwa. There are a wide variety of Indian recipes with carrots and the most famous and tops the list is the Gajar Ka Halwa recipe.
About Carrot Halwa
Gajar Ka Halwa is a popular Indian dessert made with grated carrots, milk and sugar / jaggery, ghee, and nuts.
Most Indian recipes with carrots are made of sugar and sometimes it does not justify the needs of all the family members given their health conditions. Hence, we prepared halwa without sugar and added jaggery instead of it.
Every ingredient used in this recipe is very helpful in one way or the other to the human body. The halwa is made with simple ingredients. Whole Milk, Carrots, Jaggery, Dates, Ghee (clarified butter), and dry fruits are used in this recipe.
Calcium, Copper, Magnesium, Iron, Potassium, Vitamin B, Good fat, and essential Vitamins are the key health sources of this recipe.
If you wish you can prepare halwa with khoya (evaporated milk solid) as well.
Given these health benefits and the taste, this Indian dessert is prepared most often in India for almost all occasions and family gatherings.
This is an eye-appealing dish and one cannot leave without eating it after seeing it. This is also a kid-friendly dish and needs to be fed at least once a month for good growth. 
The specialty of this recipe is it makes space for itself when your stomach is already full.
Gajar Ka Halwa used to be prepared and served especially on the birthdays in the family before the cake culture took over this tradition in India. 
Badam milk, Gajar Ka Halwa, and some spicy and salty snacks are distributed to the ones who attended the party.
Process of making Traditional Gajar ka halwa recipe:
The process of cooking Gajar ka Halwa is so simple and easy. Gajar Halwa is made with grated carrots (red carrots), add milk and boil in a kadai (whole milk), add grated carrots and cook together (saute the carrots in the milk) and after some time add jaggery, and dates paste and cook until halwa thickens. 
Saute the dry fruits (cashew and almond) in the ghee and season it on top of the halwa.
Pro Tip:
Do not use condensed milk or milk powder if you are aiming for a good taste and cooking for the first time. Use whole milk of Cow or Buffalo instead.
Do not cook this recipe in a pressure cooker (pressure cook) and Halwa in the Instant pot if you are making it for the first time. Make this halwa in an open vessel or kadai.
Click here If you want to see the instructions on how to make instant pot carrot halwa. Almond Milk Halwa, Food Processor Halwa.
Do not buy grate carrots which are packed and frozen to make the halwa. Make Gajar Halwa with fresh carrots to make it even tastier. Use fresh carrots, peel them, and grate them with a vegetable grater.
Do not eat halwa warm or cold. The ghee and broken milk will make less taste when it is served cold. Just reheat it and serve them.
Make this recipe with red carrots a.k.a traditional carrots. Carrot Halwa made with orange carrots will not taste good as if it is like carrot halwa made with red carrots.
Please watch the video below for a detailed step-by-step guide/instructions.
Hope you liked reading this article. You may also like our other recipes on our blog. Please Click Here to read more.
Also, subscribe to our YouTube Channel for more tempting recipes.
How to make Carrot Halwa Recipe / Gajar Halwa Recipe with step-by-step photos
1. Peel off the red carrot (traditional Gajar) skin and grate the carrots and keep it aside
2. Add 1 liter of whole milk to the kadai/pan. The bottom of the pan/kadai should be thick. Take the right amount of milk based on the quantity you make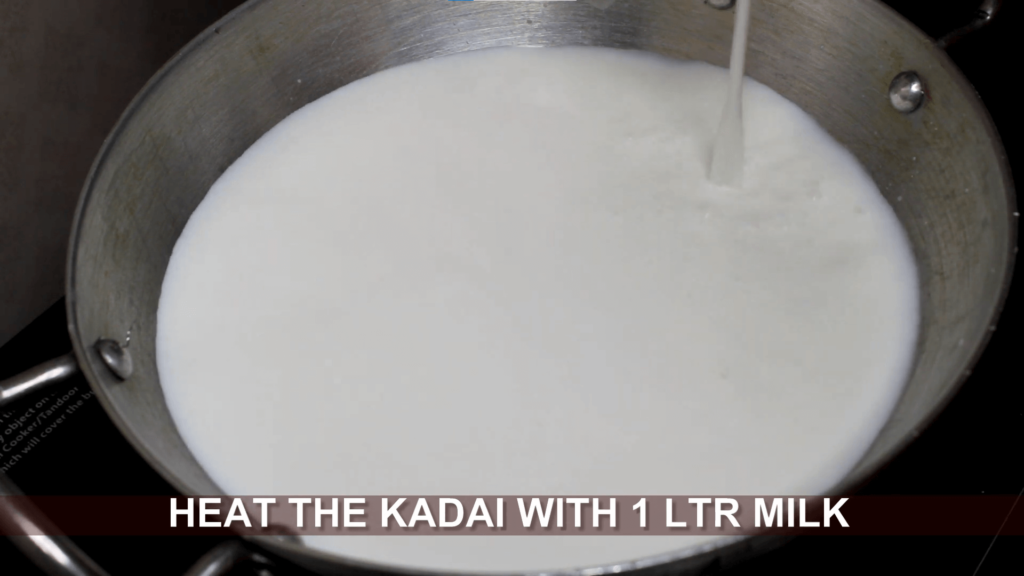 3. Cook it on high flame by stirring and let the milk start to boil
4. Add the grated carrots in milk and cook the carrots with milk until they both start to thicken. Cooking the carrots with milk is an important step in this recipe
5. Once the milk is absorbed by the carrots, add a few lemon drops to break the leftover milk and cuddle it with the carrots
6. Add a few dates to the grinder with some milk and blend it to a fine paste and add it to the milk and carrots
7. Add a cup of jaggery to the boiling milk and carrots and cook for a few minutes by stirring it well
8. Add the dates paste to the boiling milk and carrot
9. By continuously stirring cook the halwa on low to medium flame for 5 mins
10. Also, add cardamom powder by crushing a few cardamoms and stirring the halwa
11. Mix well and cook until the halwa (milk and carrots) thicken (milk evaporates) and all ingredients are mixed and cooked together.
12. Add 2 tablespoons of desi ghee (clarified butter) to a new pan
13. Add slit cashews and almonds to it. You can also add other dry fruits like pistachio and raisins. 
14. Saute the dry fruits in the ghee until they turn into lite brown in color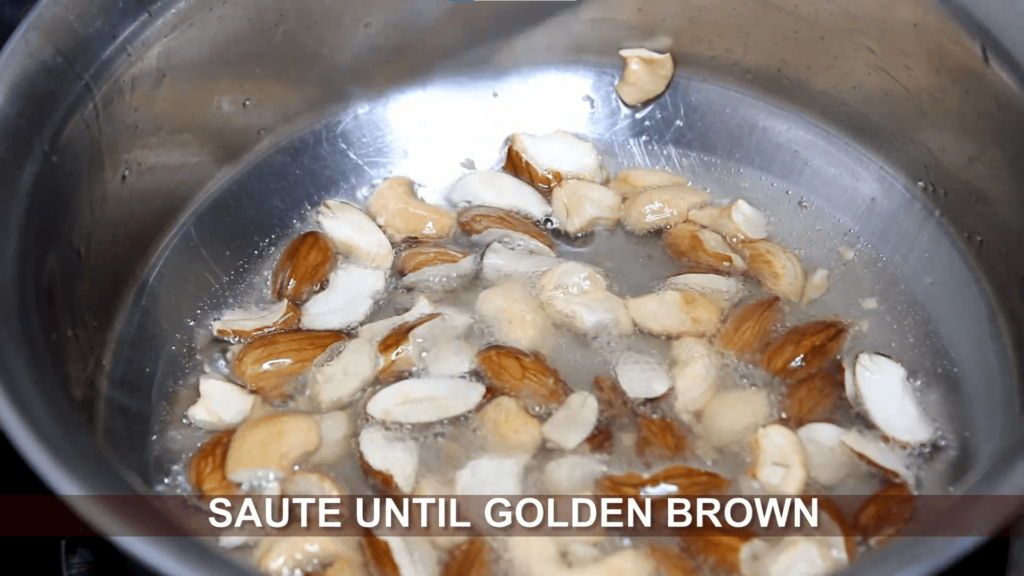 15. Add the sauteed dry fruits on top of the cooked halwa. 
16. Garnish the halwa with watermelon seeds,raisins, and crushed pistachio
17. Gajar Ka Halwa is ready to eat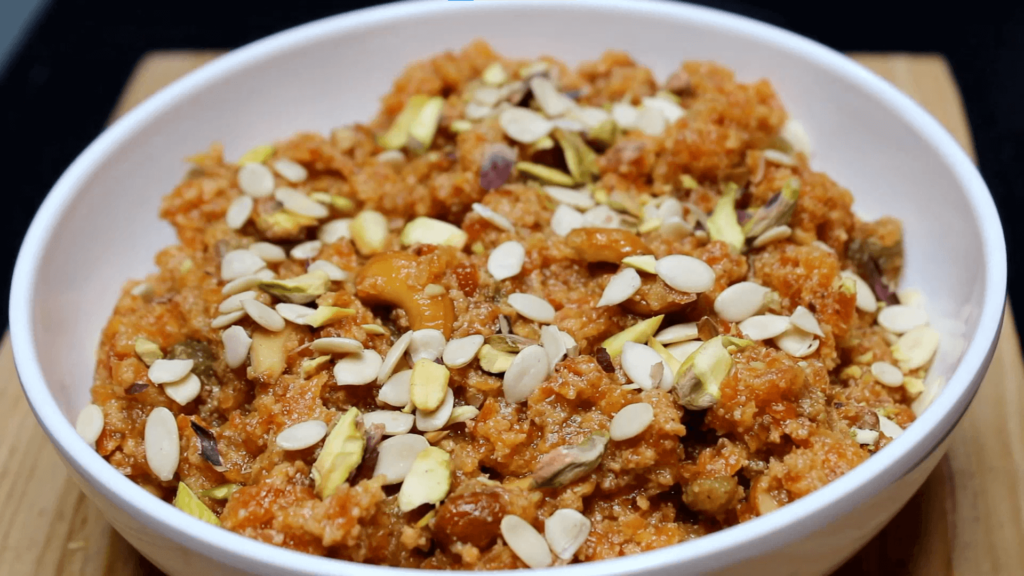 Enjoy the halwa made at home and prepared with your own hands