How to cook Delicious and Spicy Mutton Curry at Home
Mutton Curry Recipe is one of the most popular non-vegetarian dishes which is consumed once a week compulsory. People take pride in serving this dish at parties, functions, and gatherings. Lamb ribs, Chops, and Minced Mutton Patties taste good when they are grilled with the right seasonings.
Apart from the taste of mutton, it packs many health benefits; because of this nature, it is always in demand.
Benefits of Mutton:
The source of vitamins in the mutton helps the human body by boosting immunity, is good for skin and hair, good for blood circulation, good for bones, promotes brain development, and so on.
While mutton curry can be high in fat and calories if prepared with large amounts of oil and cream, it can also be a healthy option when prepared using lean cuts of meat and healthy cooking methods such as grilling or baking.
Mutton (Goat/Lamb) is a rich source of Iron, a good source of Vitamin B12, Low calorie, and cholesterol food, a rich source of potassium, and quality proteins.
The process of cooking Mutton (Goat/Lamb) is easy and traditional. The mutton gravy cooked with raw spices (masalas) will definitely get the feel of cooking something great.
The duration of cooking mutton depends on the meat you get. If you get the tender mutton it cooks quicker than fully grown sheep mutton. In fact, the tender mutton doesn't have to cook in pressure cookers. It can be cooked in a vessel with medium to hot flames.
Mutton cooked in an instant pot tastes good and it tastes even good when it is marinated overnight with all the masalas added to it.
Mutton can be cooked with different combinations of herbs like methi, mint, coriander, and mutton cooked with a combination of pulses (dal) called Mutton Dalcha is quite popular in India and very healthy.
The cooking process goes something like this:
Goat Meat (bone-in) is properly washed and cooked with finely saute raw spices, onions, chili, turmeric powder, cumin powder, garam masala, and fenugreek leaves. The right amount of turmeric, salt, and red chili powder either makes this recipe hit or flop. So please be careful while adding these spices to the curry.
To achieve the best flavor and tenderness, mutton curry is typically slow-cooked for several hours, allowing the meat to absorb the flavors of the spices and become tender.
The highlight of the mutton recipe is Fenugreek Leaves aka Methi in Hindi and Telugu in India. Mutton is a health booster for humans and for mutton methi is the taste booster. Try this combination and I am sure you will definitely love it.
Indian Style Mutton Curry is known for its combinations as it tastes good with almost everything like plain roti, naan, butter naan, chapati, bread, rice, flavored rice, and bhagara rice, and it tastes good by itself. Many people eat just mutton curry as touchings at parties.
There are many variations of mutton curry across different regions of India, but we are presenting this recipe cooked in Andhra and Telangana styles. After going through this video, instructions, and guide you will stop searching online for "how to make mutton curry" and "mutton curry near me" to order. Instead, you will just cook by yourself and enjoy the delicious mutton curry.
Frequently asked questions:
Which part of mutton is best for curry?
The best part of mutton for curry depends on personal choice and the type of curry you are making. Generally, tougher cuts of meat are better for curries as they become more tender and flavorful when cooked slowly in a spicy sauce.
When buying, including the combination of shoulder, leg, neck, and ribs. When you slow cook these together you will enjoy the different tastes in the single recipe few are tender in nature, few are juicy in nature, and few are soft in nature.
What is Mutton Paya?
The Mutton legs are called Paya and this recipe is considered next to medicine when people suffer from severe flu infections the Paya soup is consumed in cold temperatures like the spring and fall seasons of the year. Also, the mutton liver is prescribed when someone is deficient in Vitamin D.
Should we cook Mutton in the Pressure cooker?
Depends on the type of mutton. If the meat is tender, you can cook it in a vessel by covering it and cooking on low-medium-high flames. If the mutton is not tender, it is suggested to cook in a pressure cooker for at least 5 – 6 whistles.
Mutton items that taste good when they are cooked separately and have to be cooked separately are the kidneys, brain, liver, intestines, lungs, and legs.
The mutton cooked on the heavy bottom wok and slow-cooked is called Rogan Ghost curry which is cooked by adding pure ghee. The aroma of this recipe will not leave your hand for a couple of hours.
Pro Tip:
Do not cook mutton curry if you are in a rush or hungry, fill your stomach with lite snacks and buy some time to cook this recipe in peace.
Do not try to fast cook to pack it for lunch boxes cooking in the early hours when family members are getting ready to go to schools, colleges, offices, and businesses. It needs time to prepare and when cooked in peace, it tastes better.
Do not eat mutton before going to bed. In general, mutton takes longer time to digest than compared with chicken, fish, and other vegetarian recipes. Eat at least 4 – 5 hours before you hit the bed.
Buy mutton from local markets where the butcher cuts then and there and sells it to you. Instead of buying the pre-cut and frozen.
It tastes good when it is served hot. Not just mutton but keep the combination (rice, chapati, naan, roti, tandoori, and so on) also hot.
Do not forget to compliment the person who cooks this recipe for you. If you are cooking it for yourself, then pat on your back for the effort, taste, and thought of having mutton.
Do not eat Mutton with a spoon or a fork. It is a finger-licking recipe, enjoy eating with your hands.
Please watch the video below for a detailed step-by-step guide/instructions.
Hope you liked reading this article. You may also like our other recipes on our blog. Please Click Here to read more.
Also, subscribe to our YouTube Channel for more tempting recipes.
How to make an Easy Mutton Curry Recipe with step-by-step photos:
1. Add 1 cup of oil to the cooker
2. Add raw spices (Shahi Jeera, Cloves, Cinnamon, Cardamom)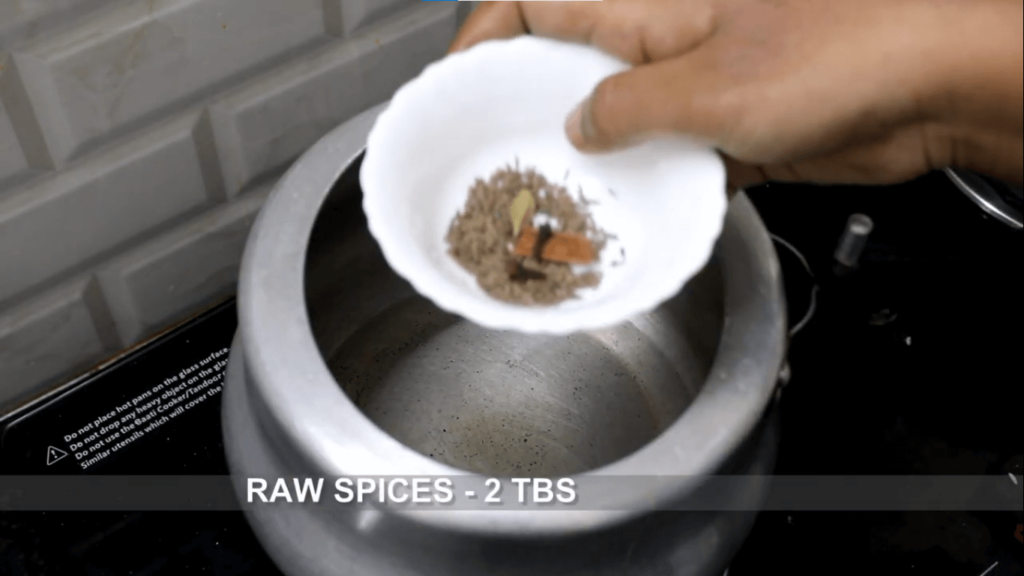 3. Slit and add 3 green chilies
4. Add 2 finely chopped onions
5. Add 1 tablespoon of Ginger and Garlic paste
6. Add 2 bunches of fenugreek leaves (methi leaves)
7. Add 1 tablespoon of turmeric powder
8. Add neatly cleaned 500 grams of mutton pieces and mix well
9. Add 1 cup of tomato puree (tomato gravy)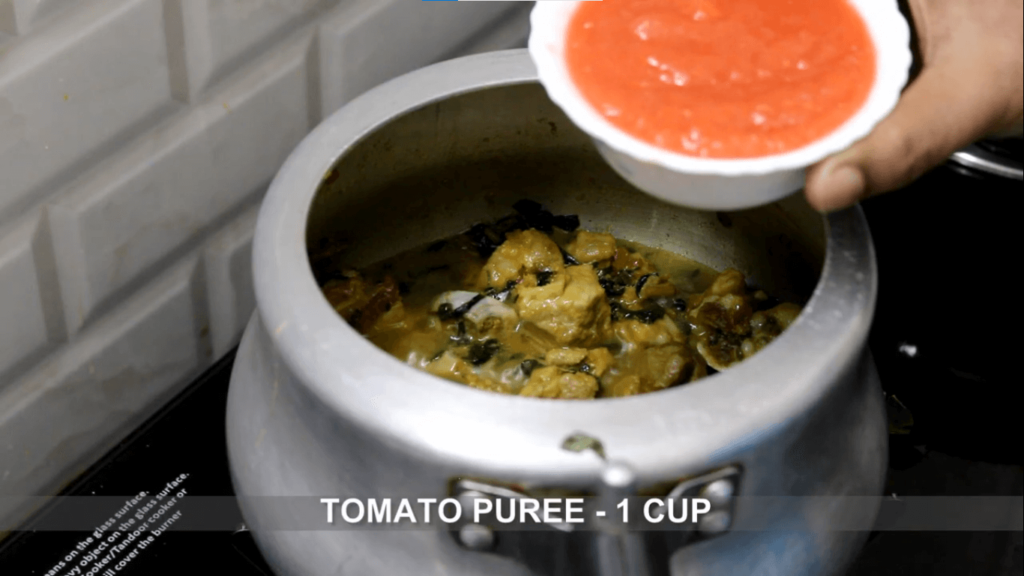 10. Add 3 tablespoons of Red Chili powder
11. Add 1 tablespoon of Dry Coconut Powder
12. Add 2 tablespoons of salt
13. Add 2 tablespoons of coriander powder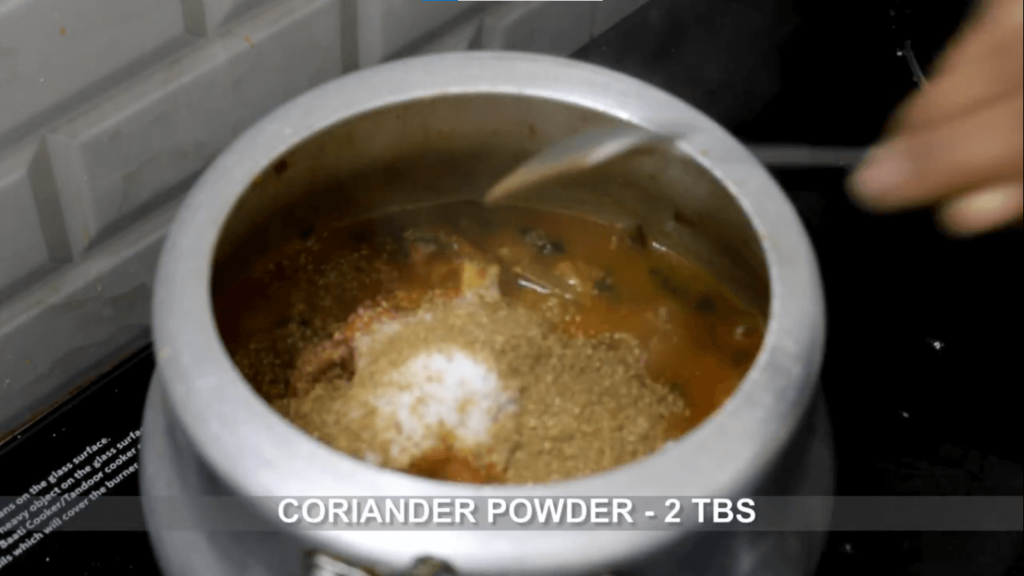 14. Add 1/2 tablespoon of Garam Masala Powder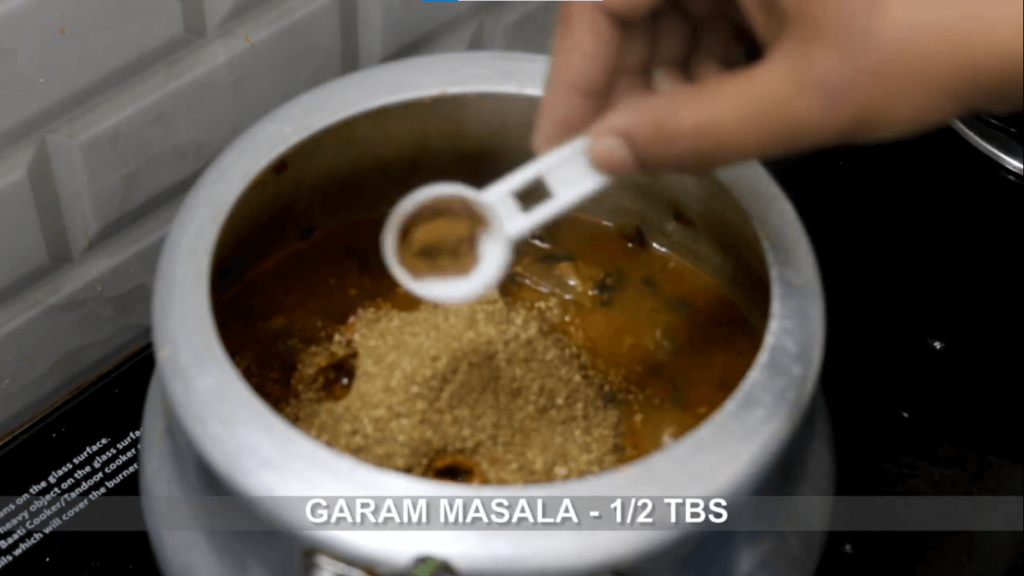 15. Add more water
16. Add fresh mint and coriander leaves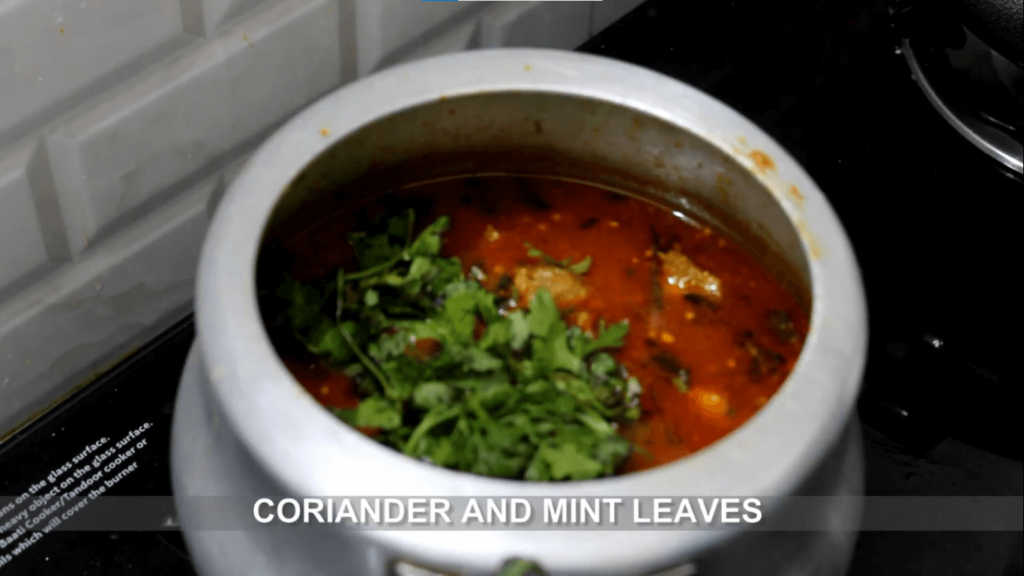 17. Seal and pressure cook for 3 whistles. This will make the mutton soft and tender.
18. Release the vacuum and open the cooker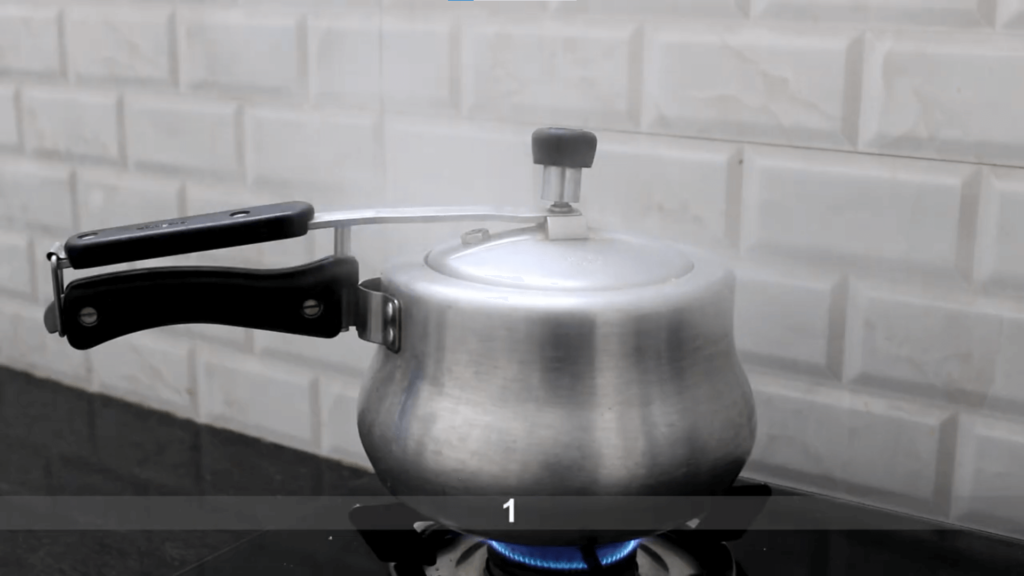 19. Mutton Curry is ready to serve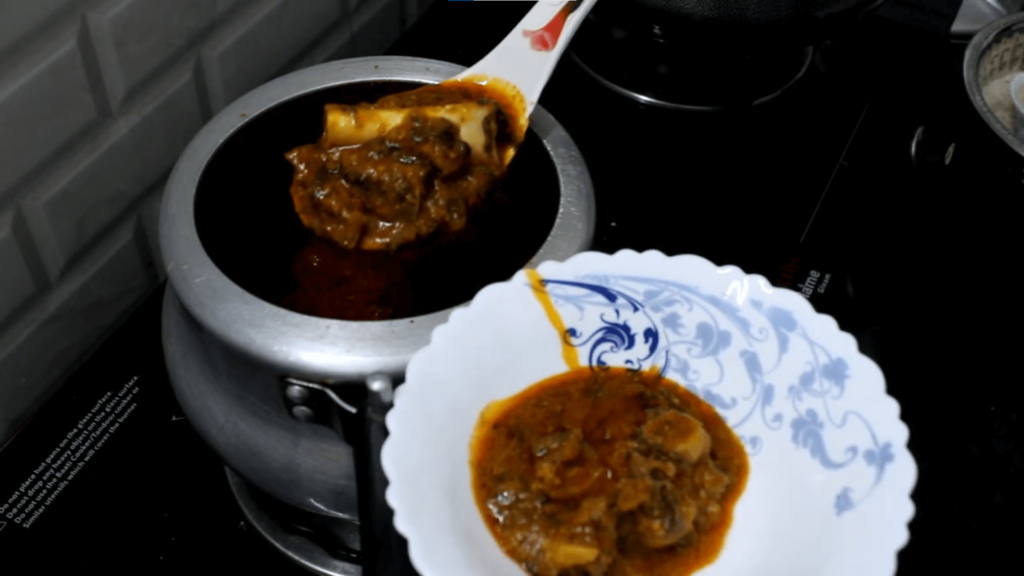 Enjoy the tasty, tender, spicy, and aromatic Mutton Masala Gravy
Mutton Curry Recipe
Mutton Curry Recipe
Mutton Curry Recipe
Raw Spice - Shahi Jeera, Cloves, Cardamom, and Cinnamon

Fenugreek Leaves (Methi Leaves)
Video
Step by Step making process
Mutton Curry Recipe